DISCLAIMER: CoC (Continuum of Care) is an alternative term for LTSS (Long Term Services and Support). Please note that not all instances of LTSS have been transitioned to the new designation.
If your community needs to establish long-term services and supports or improve its current program, the CoC roadmap planning model can guide you through the planning process. This roadmap will help you understand your community's needs and work toward meeting them — whether you have an active program already or are beginning the planning process for the first time.
The Roadmap Model
The roadmap offers a step-by-step planning process for addressing CoC service needs in your tribal community. It will help you plan strategically by considering CoC needs, resources for services, and opportunities for collaboration. This model will show you the necessary steps to build an CoC program that fits your community.
Click each section of the graphic below to see the content for that section. 
A needs assessment means collecting information that provides a complete picture of the following parts of your community:
Demographics
CoC needs
Strengths and resources
The assessment helps you identify your community's needs and decide which are most important. This step is crucial to your success because it reduces your risk of investing valuable resources into services that may be unnecessary or unfit for your situation.
Watch the video below to learn about the Menominee Indian Tribe of Wisconsin's model of long-term care and see an example of how the tribe conducted a needs assessment:
Conducting a needs assessment will provide you with:
A picture of your community's current CoC situation and needs
Information that helps you decide what your funding priorities should be
Guidance for developing your program and making policy decisions
Data to include when writing grant proposals
Expert Assistance
When planning your needs assessment, consider working with an expert researcher. An educated and experienced researcher can help ensure a reliable assessment process and accurate results, which are important to building an effective program.
Needs Assessment Model
This model recommends steps to take when conducting your needs assessment.
Identify Initial Needs
First, you need to determine the problems and needs of your community. This initial identification is key because you will measure future progress against it.
Define Problems
Identify the services you need. Also, identify problems that could stand in the way to implementing a program or service.
Sample Problems
Home- and community-based care on the reservation
Training for caregivers
A home- and community-based care model that fits your budget
Small staff
Lack of funding
Lack of space to build or renovate
Identify Stakeholders
Stakeholders are people who have needs or wants that relate to your planning process. They can include people directly affected by a program and people or organizations who have interest in the program, such as tribal leaders.
Kinds of Stakeholders
Stakeholder Examples
Individuals
Organizations
Tribal elders who receive care from a CoC program
Tribal elders or people with disabilities who need care and don't currently have a way to receive it
The families of tribal elders or people with disabilities
Tribal leaders
The tribal health department
A local nonprofit that provides disability services
Collect Data
Collect data to help identify the needs in your community. You can collect data by interviewing people, having them complete surveys, or join focus groups. Good people to include are:
Elders
People with disabilities
Caregivers
Health care providers
Tribal officials
Title VI directors
You can also collect valuable data by reviewing reports or other research, such as:
Census data
Data on clinic users
State or county economic profiles
Electronic health records
RPMS numbers for communities served by IHS
Other reports related to your field
Organize and study the data you find.
Define CoC Needs
After gathering information for your assessment, evaluate what you found to understand your community's CoC needs. You may find that your early assumptions about needs or problems were correct. You may discover new issues that you didn't suspect. Follow these steps:
Uncover additional needs: Consider each issue and break large issues into smaller pieces. Note any issues that didn't surface during the assessment.
Know the current facts: Become familiar with the data discovered during this assessment. This initial data forms the baseline, or the starting numbers, from which you can measure changes in the future.
Describe CoC Needs
Based on your needs assessment results, identify:
Who needs CoC services?

Number of people
Age and gender breakdown
Disabilities in this population
Location (on or off reservation)

What types of services does your community need (e.g., transportation or caregiver respite)?
What services are available now?
Based on this information, create a plan for building services.
Step 2. Goals and Objectives
Goals set your purpose and state which issues you want to address. Setting LTSS goals for your community helps you focus your planning effort and know what steps you should take. Objectives are measurable targets that help you meet the goals you set. Performance metrics are ways to measure changes in your community to see if you are meeting those goals.
Identify Goals and Objectives
Begin by considering these questions:
What goals do you want to achieve through your CoC program?

Example: "I want to provide reservation-based home health care services."

What are some objectives you need to accomplish to help you achieve the larger goals?

Example: "I need to learn about state accreditation for home health care services."
Next, examine your answers and clearly define your goals and objectives.
Example goal: "Improve the quality of life for our elders and people with disabilities." This goal gives an overall direction for CoC planning. Many different activities can contribute to working toward a goal, but they share the same purpose. The goal is large— there are almost limitless possibilities for what could be done to move toward this goal, and no way to tell when it's completed. Creating objectives under each goal can help define exactly what needs to be done.
Example objective: "Achieve 100 percent Medicaid enrollment among eligible community members by June 30, 2027." This objective is specific, measurable, and has a time-frame. You can easily tell whether or not an objective is achieved. If 85 percent of your eligible community members are enrolled, you are close to meeting your objective.
Choose Performance Metrics
Performance metrics are measurable statistics that you'll use to identify change. Choose your metrics early so you can take measurements before program implementation. You'll need to compare future measurements to your starting numbers to accurately measure change.
Think about how to measure the need you are addressing. Possible performance metrics could include:
Medicaid enrollment rate among eligible community members
Number of mental health screenings performed by health providers
Number of hospital re-admittances 
Common Performance Metrics
Older Americans 2016: Key Indicators of Well-Being defined six major themes related to elder health. These indicators provide examples of possible metrics for your program.
Population

Number of elders
Racial and ethnic composition
Marital status
Educational attainment
Living arrangements
Veteran status
Economics

Poverty
Income level
Sources of income
Participation in labor force
Total expenditures
Housing problems
Health Status

Life expectancy
Mortality
Chronic health conditions
Sensory impairment and oral health
Respondent-assessed health status
Depressive symptoms
Functional limitations
Health Risks and Behaviors

Vaccinations
Mammography
Diet quality
Physical activity
Obesity
Cigarette smoking
Air quality
Use of time 
Health Care

Use of health care services
Health care expenditures
Prescription drugs
Sources of health insurance
Out-of-pocket health care expenditures
Sources of payment for health care services
Veteran's health care
Residential services
Personal assistance and equipment
End of Life

Use of hospice or intensive care unit services in last 30 days of life
Place of death (at home, in the hospital, in a long-term care facility, other)
Once you identify CoC goals, objectives, and performance metrics, it's time to examine and compare CoC models to find one that meets your community's needs.
It's time to begin the process of choosing the right CoC model for your community. In this step, you'll examine the options available. In Step 4, you'll figure out which CoC model would fit your community.
CoC programs follow one of these main models:
Home- and Community-Based Services: Individualized care delivered at home or in community settings
Facility-Based Services: Care provided in institutions, such as assisted living residences, adult family homes, or nursing homes
Financing and the extent of tribal involvement in CoC delivery are important to consider at this stage, since these elements are different between the two models.
Financial Considerations
Financing and reimbursement options for CoC services are different from state to state. Plus, the program models may have different reimbursement opportunities available under your state's Medicaid programs.
See CoC Financing for more information on:
Creating a budget and a financing plan
The benefits and challenges of different funding sources
A step-by-step guide to working with your state
100% FMAP: A potential reimbursement opportunity that can benefit both your tribe and state
The reimbursement process and the many reimbursement rates available
Level of Tribal Involvement
Tribes can assist CoC programs in many ways, including executive and legislative support, governance, program management, and support of related programs. Different CoC models require different levels and types of tribal involvement. Consider how your tribe can support your CoC program by looking at these factors:
Direct and contract services
Management structure
Costs and revenue sources
Number of people served
Program sustainability
See Tribal Leader Involvement for more information on how your tribal government can be involved. After exploring the available CoC models, decide which model fits your community.
Community-Related Impact
After reviewing available CoC models, you should closely study them to understand how each relates to your community. Carefully consider the impact, required resources, sustainability and cost-effectiveness of each model before you select one. Will the model address the CoC needs you identified for your community?
Required Resources (Non-Financial)
Does your tribe have enough people and technical skills to support the model? Becoming familiar with state regulations and related best practices can help you decide what non-financial resources are necessary to implement an CoC model.
Examples of non-financial resources:
Experts in the areas your program needs
Broadband Internet access
Electronic health records
Cell phones
Diagnostic and treatment equipment
What types of things are needed to implement the model?
Licensure
Insurance
Building (construction, rent, operational costs, maintenance, etc.)
Equipment
Personnel (required staffing ratios, training, etc.)
Staff housing
Transportation for staff or clients
What are your state's policies on CoC services and reimbursement? See the State Resources Map to learn more about your state's requirements.
Quality of care standards
Reimbursement
Which services can be reimbursed under the state Medicaid plan?
Which services can be reimbursed under your state Medicaid waivers?
How are services authorized under the state Medicaid plan?
What are the requirements to contract for services?
What is the billing process for the model chosen?
Sustainability and Cost-Effectiveness
Based on the data gathered in your needs assessment, will you serve enough people to make your chosen CoC model work? A good way to see how many patients you need to serve to avoid losing money is to do a break-even analysis.
Another question to think about is: how do the cost and level of care for a certain model compare to other models? The information on this page can help guide you through the process of setting up your finances. After considering these factors, a SWOT analysis can assist your final choice of the right model.
SWOT Analysis
SWOT stands for Strengths, Weaknesses, Opportunities, and Threats. Strengths and weaknesses are internal factors that you and your tribe can control. Opportunities and threats are factors outside of your control that exist at the national, state, or community level and may affect your CoC program.
Examples:
Strength: A physician in your tribal program is a trained geriatrician (internal)
Weakness: Some medical staff are not qualified to bill Medicaid (internal)
Opportunity: A nearby tribal college is planning on creating an HCBS program (external)
Threat: The state government is considering cutting Medicaid funding for LTSS (CoC Services) (external)
A SWOT analysis will help you identify internal and external factors that may influence the way you implement your CoC program and allow you to plan accordingly. This analysis can be useful at many points throughout the CoC planning and implementation process. You can organize factors into a SWOT matrix to help you visualize your situation.
After choosing your CoC model, carefully look at how its implementation will be shaped by the many factors that go along with community health planning and care. Strategic planning can help you anticipate problems, give a clear understanding of your community's current situation, and build on your community's current strengths. The steps below describe the strategic planning process.
Understand Your CoC Model
Review program requirements (financing, certification, staffing, etc.)
Identify where you'll get funding for:

Creation or improvement of your program
Ongoing program costs

Review requirements for certification through third party payers (e.g., Medicaid)
Figure out how much financial help you'll receive from your tribe
Plan Strategically
Identify things that may affect your program
Use information from your SWOT analysis or do another SWOT analysis, especially if anything about your situation has changed significantly
Find out if protocols within your tribe will require you to do anything else. For example, conducting a needs assessment or hiring staff may require that a tribal resolution be passed first
Develop action items from your analysis
Find opportunities to take advantage of current resources. For example, can a new program share overhead costs with an existing tribal clinic?
Watch the video below to learn more about leveraging resources and how to maximize resources you already have.
Prepare for Implementation
Create a plan for implementation and choose timelines for each task you need to complete
Line up your internal and external resources

Look at the action items from your SWOT analysis and decide which you need to do first
Figure out which tribal protocols or processes you need to follow. For example, do you need to work with your tribe to revise or create codes that deal with elder abuse?
Find out what's needed to work with resources outside your tribe. For example, do you need a Memorandum of Understanding to work with a state agency?
Reach out to key contacts within your tribe, community, county, and state
Review your current needs and think about possible future needs. What are your training or funding needs, and who can you work with to help meet those needs?
After you have created a plan and addressed internal and external factors, your CoC plan is ready to implement.
Implementation Checklist
The consideration and planning in Steps 4 and 5 should have helped you identify some of the steps you need to take to implement your chosen CoC model in your community. This implementation checklist can help you get a clearer view of certain aspects of your program. Based on your unique plan, you may wish to add action items to this list or break items down into smaller steps.
Financing
Ensure that your program can bill for its services

Review and update billing codes
Determine whether a tribal resolution is required for these changes

Discuss funding opportunities with your tribe

Does your tribe plan to fund or help fund your program?
If so, does the tribal budget set aside money for this type of program?

Discuss reimbursement rates with state Medicaid officials
Buildings
Work with your tribe to find a space where you can build, renovate, or lease
Accreditation
Meet requirements of accrediting agencies

Which accreditation agency do you need to work with? (This is based on the type of facility you have.)
What steps do you need to take to meet the requirements of your accreditation agency?

Submit application to gain or renew accreditation
Staffing
Recruit, hire, and train staff

Do your staff members need certain trainings or certifications for your program to meet its accreditation requirements?

Contact any outside providers that you would like to contract with
Program Development Resources
The following national organizations can assist with tribal CoC programs. Some national programs may have initiatives geared toward working with tribes.
Certification for Medicare and Medicaid
There are many kinds of certification that facilities and programs can apply for. Certification through CMS for Medicare and Medicaid is an important step in developing an CoC program. Accreditation is often a lengthy process. Plan on spending plenty of time on this certification and other types of accreditation.
Create a Work Plan
Develop a work plan that shows the activities you need to accomplish and when they should take place.
Sample Work Plan: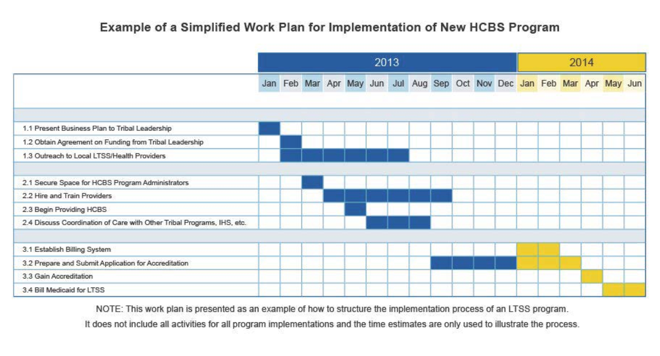 Strategies for Success
Because the following approaches tend to be ongoing, they may not be on your checklist, but they are important strategies:
Take advantage of existing resources

Streamline CoC services with existing tribal health services
Collaborate with other tribes that have similar programs and services
Create or improve an elder safety code
Start an elder task force

Communicate often with key stakeholders

Recruit CoC champions who can help create momentum around your program
Gain the support of tribal leaders and your community

Build and use partnerships

Contract with other tribal and non-tribal providers
After implementing an CoC program, it's important to evaluate how well it works, whether it meets the goals set for it, and how it benefits community members.
Once your community has created an CoC program or modified an existing program, it's important to measure its impact. Evaluation measures your progress toward goals and objectives and helps identify successes and areas that need improvement.
Evaluation Questions
Your evaluation should answer these basic questions:
How do current program outcomes compare to your baseline measurements (the starting numbers you identified in Step 1)?
Has the program achieved the objectives you set?
Has the program achieved its goal?
Is the program sustainable?

Have factors of program cost changed (e.g., wages, rent, equipment)?
Is the program creating enough revenue to cover its operating costs?

Are there opportunities for growth or maintenance of services over time?
Key Evaluation Elements
Use the performance metrics you identified in Step 2 to find measurable results. Measure changes regularly (monthly, quarterly, or yearly). Examples of measuring results using performance metrics:
Program Participation Over Time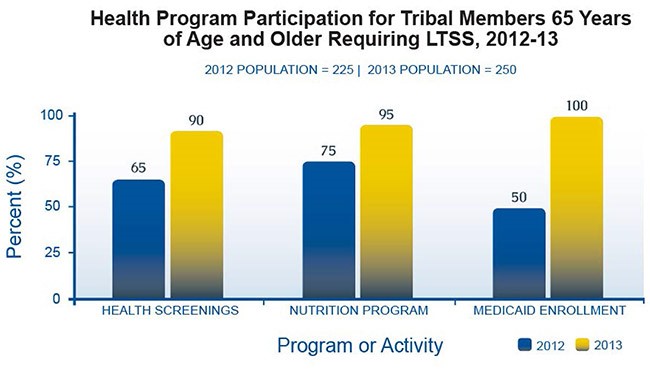 Services Delivered by Different Program Types Over Time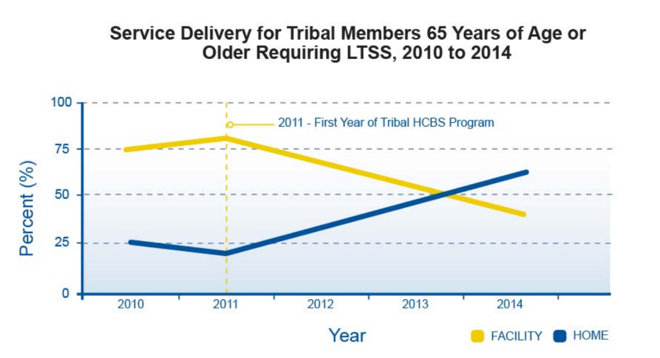 Use your performance metrics to answer these questions:
Do the current program activities and results match what you planned for?
Is your program effective?

How do key indicators (e.g., elders' health outcomes, level of collaboration between partners) compare with the measurements you took before program implementation?
How did the program impact certain indicators?
Did the program achieve the outcomes you wanted it to achieve?

Is your program efficient?

What is the relationship between how your program uses resources and the CoC outcomes it achieves?
How do different services compare to one another in the health outcomes they achieve? Use recipients' health statuses to measure this.
What lessons can you learn from both met and unmet objectives?
If you did not achieve your objectives, do your performance metrics show that your program is moving in the right direction?
Can you think of ways to improve performance and meet the unmet objectives?
Do your objectives still accurately represent what the program or community needs?
Should objectives be changed, based on a new understanding of the CoC program or the environment?
Logic Model
Next, develop a logic model, which provides a picture of:
What you have (resources)
What activities you will do or have done
Target results for your activities (outputs)
Short- and long-term program outcomes
The model provides a structured way of organizing the information you discover from your evaluation.
Example of CoC Logic Model